At a special event in October 2018, Apple unveiled two new versions of two of its IPad Pro tablet, a new MacBook Air and an updated Mac Mini.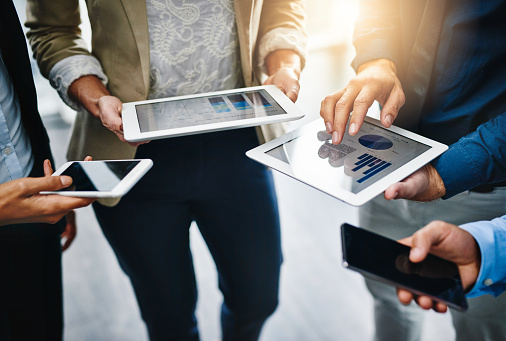 For Australian businesses, Apple's latest product innovations provide additional options for providing employees with the tools they need to be more efficient, productive and profitable. Here's a closer look at the announced technology enhancements.
IPad Pros
Enhancements to the company's premium tablets have been rumoured for months. The new versions bring over some recent features of the newest iPhones, including an edge-to-edge display and FaceID authentication.
The newest iPad Pros come in two sizes — an 11-inch model and a 12.9-inch model. The models feature a range of storage options, from 64 GB to 1 TB. Here are some other specifications and features:
Design. The new models are slightly thinner — 5.9 mm thick — than previous versions. The bezels aren't as small as those on the latest iPhones. The design changes mean one radical departure — elimination of the Home button, meaning TouchID may be on its last legs across all of Apple's newer mobile devices. There also isn't the notch found on new iPhones, allowing for use of Apple's True Depth camera functions, including a proximity sensor, ambient light sensor, front-facing camera, and dot projector that fuel the FaceID tech.
Technology. These iPad Pros use Apple's Bionic SoC, giving users a 90 percent multi-core and 35 percent single-core performance edge over 2017's models. Charging has also changed from the Lightning port to a USB-C for the first time among iPads and iPhones. The USB-C lets users charge an iPhone from the iPad and connect cameras and displays. There's also no headphone jack.
Other Features. What else is included in the new iPad Pros? Here are a few other key features:

Gigabit LTE and eSIM capability
Bluetooth 5 support
Four-speaker audio with tweeters and woofers
12-megapixel camera that shoots 60 frames per second at 4K

Availability and Pricing. The latest iPad Pros are available as of 7 November 2018. The 11-inch model will start at $1229 and $1529 for the 12.9-inch model. Those base models include wireless access only and 64 GB of storage. Additional connectivity and storage are extra.
MacBook Air
This device has long been in need of an upgrade and the newest model delivers more speed … and a higher price tag. The MacBook Air has been a popular option for those users looking for a lower price and lighter design.
The resolution on the latest model is nearly twice that of its predecessor, with a 33.25-cm display at 2560×1600 pixels. Here's a look at some of the other enhancements to the MacBook Air.
Design. The latest model includes a Force Touch trackpad that's 20 percent larger than earlier Airs. The keyboard has also been redesigned. Apple has also moved beyond offering its standard silver color option by adding gold and space gray selections.
Technology. There are two memory options — 8 GB or 16 GM. The MacBook Air comes with a Core i5 processor (8th generation) at 1.6 Ghz. This version removes the SD card reader and USB-A ports. Instead, there are two Thunderbolt 3 USB-C ports. This feature allows users to work with external graphics processors and hubs that allow the Air to be converted into a desktop machine if necessary (though dongles likely will be needed).
Availability and Pricing. The MacBook Air is available as of 7 November 2018. The starting price is $1849, compared to $1499 for the older model.
Mac Mini
Apple last updated the small desktop computer four years ago. This workhorse has several processor options from Core i3 to Core i7 and includes up to 64 GB of memory. It features several ports, including HDMI 2.0, two USB-3, four Thunderbolt 3 and a headphone jack. For an additional fee, a 10-GB Ethernet port is available.
Improved performance is evident throughout the new Mac Mini. The base model may still be 8 GM of memory but that memory works faster. Better cooling capabilities allow the machine to run at a 70 percent greater maximum sustained power level. It starts at $1249 for a 3.8-Ghz i3 processor, 8 GB of memory and 129 GB of storage. A model with the turbo-boosted processor starts at $1699. Like the other new products, it's available 7 November 2018.
Apple continues to provide businesses with new and innovative products that enhance productivity and operability that can be a differentiator, leading to better business outcomes.