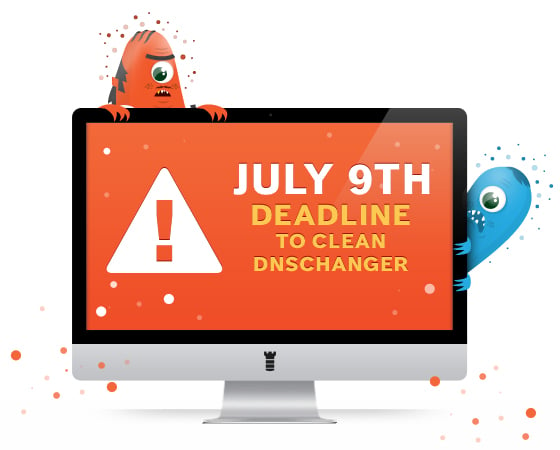 Maybe replacing infected servers with clean, though temporary, ones was a mistake on the FBI's part. Many, including executives at large enterprises, have taken their sweet old time about having the DNSChanger malware removed from their computers. According to an article on the Internet Identity website, as of Jun. 28, 2012, approximately 12% of Fortune 500 companies throughout the U.S. remained infected. Well, come Jul. 9, 2012, if those same companies remain infected when the FBI shuts down the temporary clean servers it had provided so that people could retain Internet access until they found a way to eradicate DNSChanger from their systems, those Fortune 500 companies – and anyone else whose computer remains infected – will lose that access completely.
Back in November 2011, the FBI began warning people about the DNSChanger malware that allowed Estonian-based hackers to gain control of people's computers and redirect close to 600,000 unsuspecting victims to websites with bogus software or money-making advertisements. Two "symptoms" of the malware include a sluggish Web browser and an inability to update, activate or install security software.
The FBI used government servers to help people with infected computers retain Internet access; however, the FBI never intended for this to be a permanent solution. It was a temporary fix that will expire on Jul. 9. Anyone who hasn't rid his computer of the DNS Changer malware by then will no longer have access to the Internet.
On its website, the FBI warns, "It is important to note that the replacement servers will not remove the DNSChanger malware — or other viruses it may have facilitated — from infected computers. Users who believe their computers may be infected should contact a computer professional.  And the FBI's Office for Victim Assistance will provide case updates periodically at 877-236-8947."
According to the Seattle Post-Intelligencer online, "Facebook and Google are sending notices to users who browse their sites from DNSChanger-infected computers; however, even if you haven't been notified of an infection, you shouldn't breathe a sigh of relief and consider yourself free and clear."
If you don't know whether or not your computer has been infected with this virus but would like to find out, you can do so on the FBI's security partner's website DCWG.org.
Small- and medium-business owners who know that their computers are infected but don't have on-staff IT professionals and don't know how to remove the malware themselves might want to consult a local managed IT services provider for advice.
There's no more time to waste; the deadline for the FBI to shut down its temporary servers is a mere three days away.